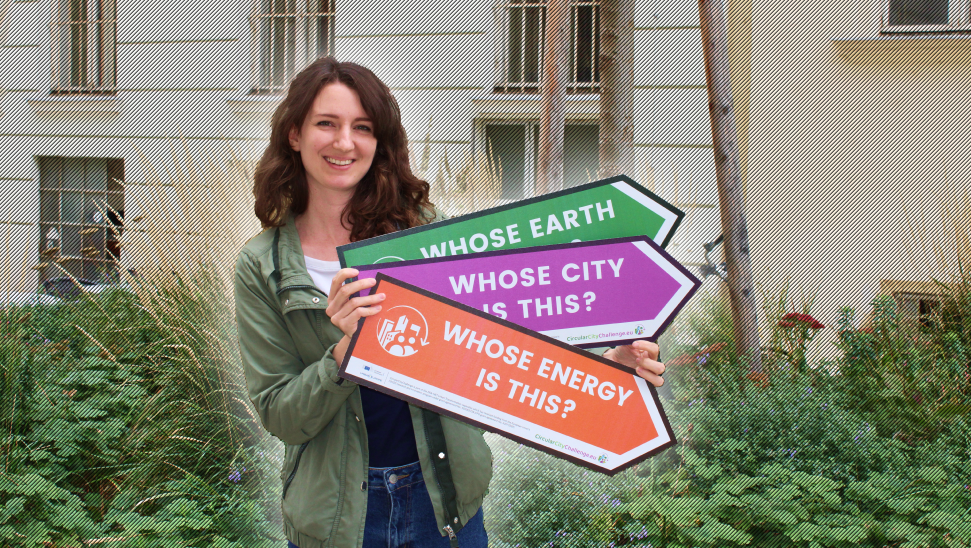 Meet the Team: Olivia Kafka
Olivia is a researcher at SYNYO GmbH with an educational background in economics and spatial planning. She has been working at different universities to support teaching and research activities and is currently continuing her master's studies in Spatial Planning to pursue her interests in the fields of climate and social policy, degrowth economics and just urban planning.
What drives you professionally? What do want to achieve with your (personal) work? What do you consider your biggest personal successes? What are the barriers to your ambition? 
With my work, I hope to contribute to a more just and sustainable society in any way that is conducive to our collective efforts: be it through knowledge creation, critical evaluation and resistance or motivation and optimism. I am strongly motivated when I work in a caring environment – both in the sense of caring for the well-being of one another and in the sense of caring about achieving the best outcome within given possibilities and constraints.
What I feel very successful about is the fact that I am surrounded by kind and interesting people, who help my passions to flourish and progress – although this might be rather a matter of luck than achievement. As barriers to my aspirations, I observe the strong pressures in our society to (over)perform continuously and the challenge to remain idealistic and hopeful when at times cynicism might seem to be the easier path.
Why is CCC important to you? What is your role in the project? 
We have seen so many years of lacking vision, courage and a sense of responsibility when it comes to climate change. By amplifying the voices of the youth, whose future is shaped significantly by today's decisions and actions, we can better understand their concerns, priorities and visions and feed their experiences into current climate action.
Together with my colleagues, I try to think about how to conduct the CircularCityChallenge as impactful and inclusive as possible, so that we can enable all teenagers who want to participate, to expand their knowledge and share their insights in a meaningful way.
How can CCC make a difference? What are the barriers to that? And what are the opportunities?
I see one of the great strengths of CCC in its ability to bring together different dimensions of knowledge, motivations and time horizons. In this sense, the challenge has the potential to unleash immediate action in the local context of communities, municipalities, businesses or NGOs one the one hand, while simultaneously refining educational foundations for generations to come.
What I hope is that the CCC is not perceived by young students as an expectation to pimp their CVs and jump-start their professional careers. Rather, from my perspective, the students' contributions can be a message to every involved actor to assume their part of our joint responsibility and to align their decisions with the interests of future generations. I expect that many actors in power will be inspired by the ideas of the young and will realise even more the importance and urgency of their actions.