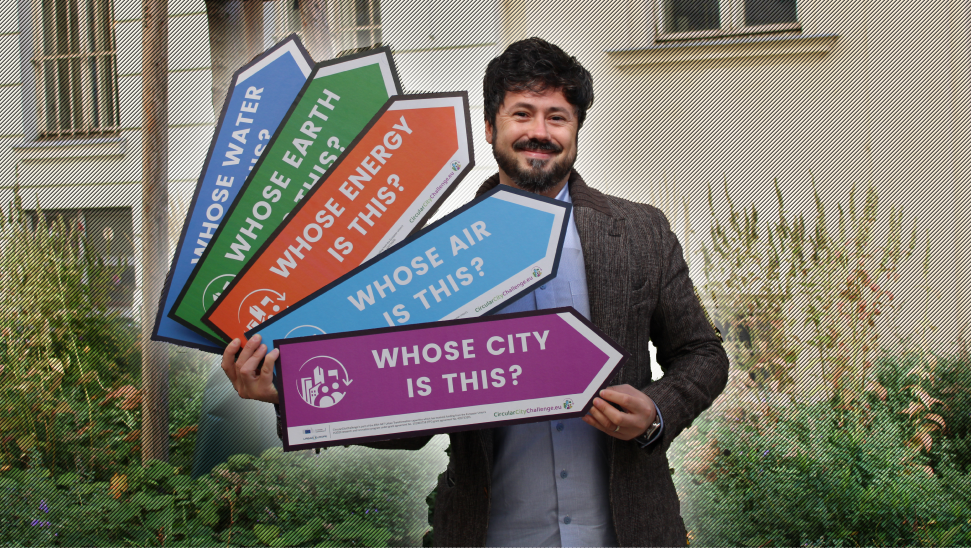 Meet the Team: Adrian Ibric
Adrian Ibric is a scientific researcher PhD Architect working in the Research Management Department of the Ion Mincu University of Architecture and Urban Planning (IMUAUP/UAUIM). He is co-Organizing the annual institutional small grants research competition as well as involved in academic development and research call proposals/applications/project implementation on behalf of teams from all departments of the academic institution. Adrian graduated from IMUAUP Summa Cum Laude PhD in Ecological/Ecosystemic Architecture (2020).
What drives you professionally? What do want to achieve with your (personal) work? What do you consider your biggest personal successes? What are the barriers to your ambition? 
Professionally I am quite invested in advancing and showcasing the benefits of modern societal concepts such as architectural and urban circularity, waste as resources and cradle-to-cradle approaches, as well as Nature-based Solutions applied in architectural envelopes of buildings or Green Infrastructure integrated into urban settings, as new proposals and prototypes of nature-meets-technology for better and more Eco-systemic built environments.
I strongly believe that we shouldn't place responsibility on others but rather that, as many of us can, should do their part in achieving healthier habitats for humanity. While successfully getting my PhD completed in 2020 in the topics above mentioned, I count as a personal success the national "Prize for a Clean Environment" in 2016 (private sector category) that I and my team received for the project TUBATECT – www.tubatect.eu. It is a CSR upcycle type project for my printing business STUDIOPLOT, in which we collect and reuse the carton rolls left as waste from the large format print process (plotting) making 100% recyclable office furniture in a very low resource-consuming process. Through that, we can eliminate almost 70% per cent (in volume) of the waste generated by the business, while possibly creating jobs and raising awareness about the efficiency of using waste as new materials – and not least, generating new revenue and lowering waste disposal costs.
I think a current but solvable barrier is the lack of knowledge/awareness of the benefits of transitioning to a circular urban and territorial way of life that we experience in our society. While these benefits there are quite known in academia and even the private sector, the consuming habits of the population are still on a linear path of the cradle-to-grave approach and those that can should address that.
Why is CCC important to you? What is your role in the project? 
The CCC Project is a very good opportunity to raise awareness on the topics mentioned above and showcase promising solutions that are already in place and those that might be envisioned by new creative teams. A further and even more rewarding output is getting the curricula approved and used at the national and European or international level – the least, should be a base of having that part of the educational system.
As part of a team representing an academic partner in the project, my role is in connection with curricula review and proposal, literature review and synthesis and advancing proposal key messages for the public and target group. Generating new scientific literature on the novel concept of urban circularity is also key during and based on the implementation of CCC, on the data collected and results achieved or barriers encountered. My previous private sector background could drive my work in CCC to focus on practical case studies showcasing proven solutions, while on a local level I think students from UAUIM may benefit from getting involved in some of the CCC activities in a transfer of generational experience from teacher to university students to high school pupils.
How can CCC make a difference? What are the barriers to that? And what are the opportunities?
There are some obvious ways in which CCC can make a difference, such as increasing awareness of possible solutions that exist for current challenges in achieving circularity in our cities. Other means may include popularizing case studies and benefits, either through the digital platform but also in local events organized with target groups previously little exposed to circularity in general or urban and built environment circularity in particular.
Less obvious outcomes may include new communities arising from pan-European collaborations and networking, especially for the young participants.
In terms of barriers, there is the possibility of a lack of interest and lack of confidence in the project from potential participants. There is also a risk of too general and less applicable or realistic proposals that would be difficult to translate to market or general implementation.
On the other hand, there is the opportunity for the CCC challenge to continue and evolve at a European level in an Olympic type of competition regarding (circular) society, encompassing interdisciplinary knowledge to mainstream this concept for the high-school generation.